Love is in the air. 14th February is just around the corner, and it's time for brands to start tying the knot on your Valentine's Day marketing campaigns. During this season of love, everyone is looking for a unique gift that helps them express their feelings to their loved ones. Thankfully, this gives businesses abundant marketing possibilities to generate new leads and score new clients and customers.
With Generation Z and millennials being the highest users on social media, using influencers and content creators to share your message across their channels is a no-brainer. Whatever you sell, or whoever your customers are, you can win their love this Valentine's Day by collaborating with the people that love your brand.
Define your Marketing Goals and Identify your Target Audience
Before you start to hunt for a suitable influencer to promote your business, you first need to define your marketing strategy and identify your target audience. Defining the goals of your influencer marketing campaign and understanding the KPIs that measure success is crucial to creating an influencer marketing campaign that works for you and your business. Here are some of the main objectives:
Brand awareness & strengthen brand image
Increase sales
Attract new target markets
Increase social engagements and interactions
Too often marketers engage with influencers and social media content creators without defining what the end goal is. You have to understand what your long-term objectives are to ensure your influencer partnerships are delivering value to your business.
Identify your target audience
We don't want anyone to feel excluded from the surprises and special promotions you have prepared for this day, so try creating different strategies by segmenting the target audience you want to reach. In this sense, influencers can be your greatest allies for your Valentine's Day campaigns, as they provide the possibility of reaching very wide and segmented audiences.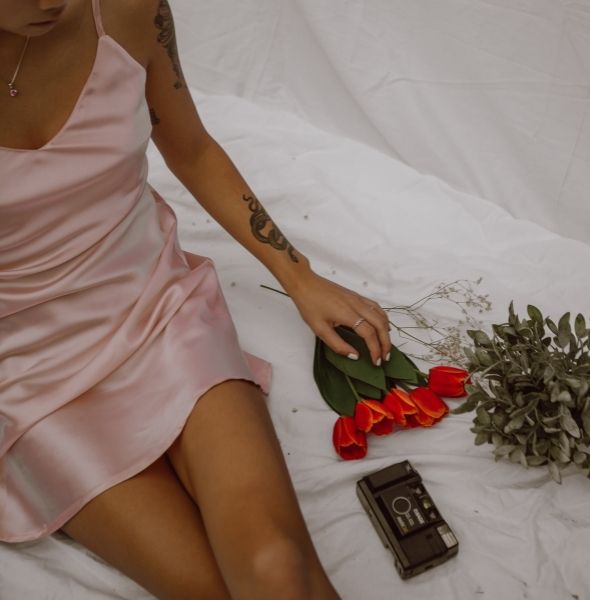 What to keep in mind when designing your influencer marketing campaign this Valentine's Day?
Deciding on the right format for your content and putting it on the right platform with the right influencers is crucial to any successful campaign, and it's something that you need to put a lot of thought into.
Select the right content format:
Short-timed videos, carousel posts, single photo posts, the beauty of influencer marketing is that it offers endless content type possibilities. From product reviews, unboxing videos featuring your product to DIY tutorials or before/after carousel posts, let social media influencers tell authentic stories to capture the hearts and minds of their audiences.
Choose the right social media platform:
Each platform has its strengths in terms of audience demographics and content formats. Gen Z are hanging out on TikTok, so it's one of the absolute best platforms to start winning their hearts and making sure they crush on your products. If your Valentine's Day objective is about converting, sharing a new ambassador program, or boosting your engagement with count-downs and contests, Instagram is your go-to platform!
Activate the right social media influencers:
With the right platform and content in place, all that remains is to find the right people to spread out your message to the world. The promotion of your products must be done by a content creator who likes your product and could buy it on their own. Make sure you choose influencers that are in sync with your campaign needs. Check their audience base and other crucial demographics (e.g: audience topics and brand affinity, audience credibility score). Influencer marketing platforms like Narrators can help you discover relevant influencers.
What's next?
Finding the right influencer is very similar to love-at-first-sight, except you don't really need to wait around for them to come to you anymore. Get in touch to start your Valentine's Day campaign, or book a demo of our platform.