"Social Media is evolving. And Gen Z is driving the change."
Morning Consult, a data-based decision-making company, conducted a survey to shed light on Gen Z's social media habits. The most prominent result highlights the ongoing power of video. Here's a closer look at the survey results and their implications for brands seeking to engage with Gen Z.
A fully digital generation:
Born between 1997 and 2012, Gen Z represents the first generation that has grown up fully immersed in the digital world. This demographic favors technology companies, with four out of five of their preferred brands being tech-related. They are opting for careers in content creation rather than traditional corporate jobs and have developed a unique language influenced by algorithmic guidelines.
Gen Z's Social Media Habits: Where Do They Spend Time Online?
According to a survey by Morning Consult:
YouTube is the most utilized platform by Gen Z, with 88% spending time on the app.
Instagram follows close behind at 76%. TikTok and Snapchat trail just behind at 68% and 67% respectively.
However, usage drops significantly for platforms such as Facebook (49%) and Twitter (47%).
It is worth noting that male Gen Z respondents tend to use platforms such as YouTube, Twitter, Discord, Reddit, and Twitch, while female Gen Zers show more activity on Instagram, TikTok, Snapchat, and Facebook. Although it's on the lower end, Gen Z is starting to show some interest in BeReal.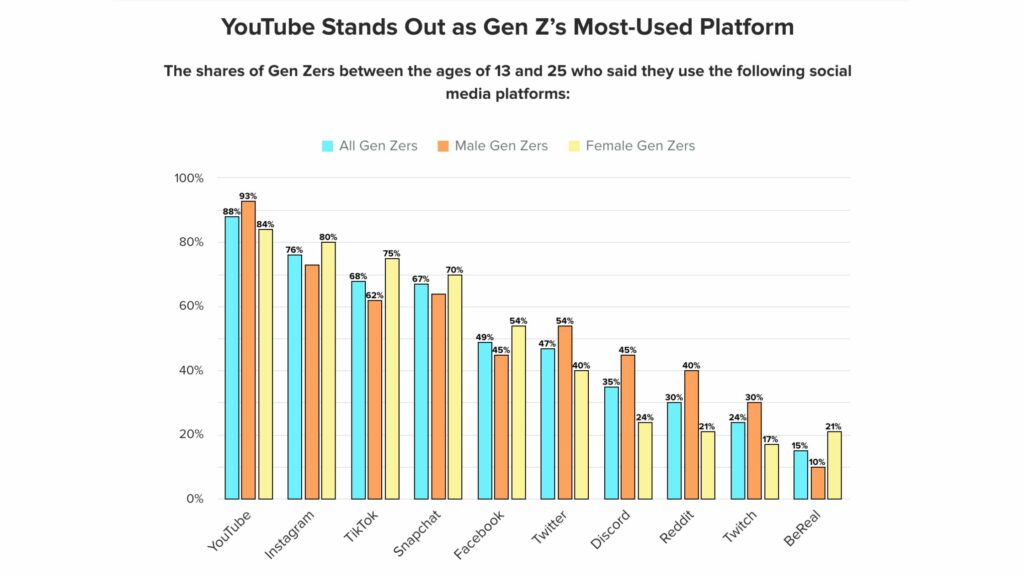 Be real: The new social media taking the App Store by storm
Launched in 2020, BeReal, a social networking app that has garnered much attention from Gen Z, has quickly become popular due to its unique approach to social media. The concept is simple – it sends out random notifications, asking users to respond within two minutes by making a post in the app. Unlike other platforms where users take time to curate their posts, BeReal prioritizes speed and authenticity. Users are encouraged to share their current appearance through an unedited photo and what they are doing.
While BeReal may not be intended for brands, it is essential for marketers to keep an eye on new apps like this and determine if they fit into their overall marketing strategy.
Gen Z's Proactive Embrace of Digital Culture
Generation Z was born into a digital world and has taken an active interest in various aspects of internet culture, such as online gaming and advanced technologies like the metaverse, to a greater extent than previous generations. Brands across various industries have taken notice and are adapting to this trend.
YouTube and TikTok have both recognised the significance of gamers in their communities, with both platforms hosting global live-streaming events this year. Nike has even launched its first virtual sneaker trading platform called ".Swoosh." Luxury retailers are not far behind, as they announce partnerships with gaming platforms like Roblox and Fortnite, and engage in activities such as designing virtual clothing lines and organising meet-and-greets with digital avatars of celebrity brand ambassadors.
As more Gen Zers reach adulthood, marketers will continue to follow their behaviour and interests, which are likely to lead them even further into the digital realm.
In conclusion, Gen Z's digital footprint is not just shaping the present, but also defining the future. With a strong presence on social media and a growing preference for technology-based companies and careers, this demographic is setting new standards in the digital world. Marketers must keep up with these changes, recognizing the shifting social media landscape, including the rise of new platforms like BeReal, and adjust their strategies accordingly. As Gen Zers mature and continue to drive the digital revolution, the way brands engage with them will become increasingly crucial. It's clear that social media isn't dying, it's evolving, and Gen Z is at the forefront of this transformation.