In the world of social media, genuine influencer marketing campaigns are helping brands connect better with their audience. In this article, we'll explore how influencer marketing is evolving and the importance of being authentic in building brand-consumer relationships. We'll uncover essential trends that brands need to embrace in today's fast-paced digital world. Let's discover how leveraging influencers and authentic storytelling can create lasting bonds between brands and their audience.
Redefining Influence: Mid-Tier Creators in Focus
In the era of authenticity, mid-tier creators (within 10,000 to 100,000 followers) are gaining immense popularity. Their followers perceive them as authentic individuals, leading to recommendations that hold more weight and resonate truer than conventional celebrity or A-List endorsements. The authentic relationships mid-tier creators build with their audience add credibility to their endorsements, fostering higher engagement and conversion rates. By embracing their true identity, flaws and all, successful mid-tier creators create a sense of relatability that strengthens the bond with their audience, driven by shared values. Recognizing the value of this genuine connection, brands are increasingly partnering with both micro-influencers and mid-tier creators to cultivate more meaningful and impactful collaborations.
Nurturing Authentic Connections
Nurturing influencer relationships is a crucial aspect of a successful influencer marketing strategy. Influencers play a vital role in building a dedicated audience that resonates with your brand's offerings. Establishing a strong and authentic bond with your influencer can lead them to become genuine brand advocates, showcasing their enthusiasm to followers who trust their recommendations, consequently boosting your sales.
This is where Brand Ambassadors come in.
Recognizing the value of genuine partnerships, brands and creators have been investing in long-term collaborations to enhance the content creation process, which we call brand ambassador programs. Through these programs, brands can select a highly relevant pool of creators to partner with on a long-term basis. Studies show that 52% of brands are already investing in such partnerships. Influencers, too, prefer long-term brand collaborations, with 79% expressing this preference. These enduring relationships ensure brand stability and a steady stream of content, reinforcing the brand's identity and fostering lasting connections with the audience.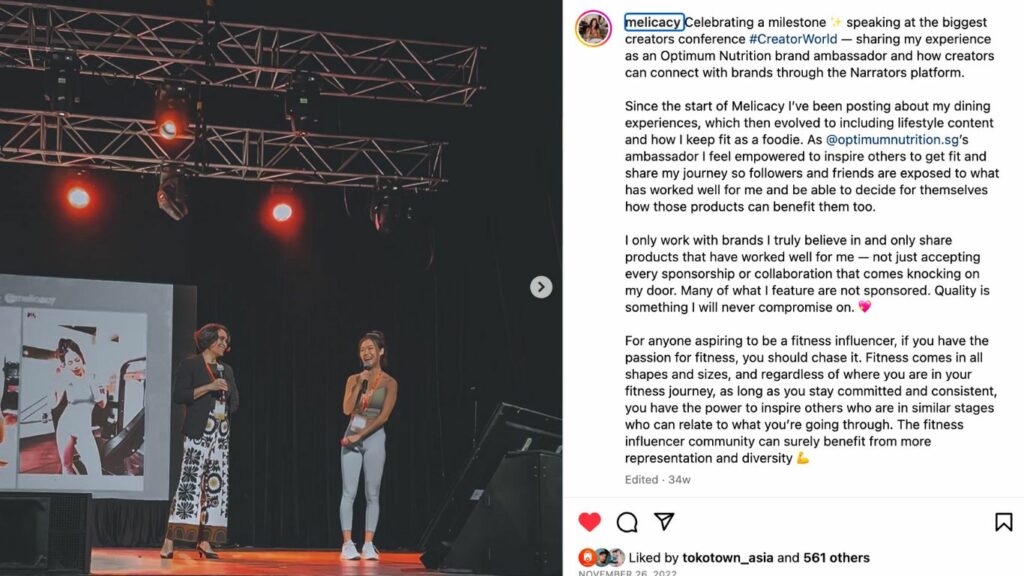 In 2022, Glanbia collaborated with Narrators for their
Optimum Nutrition regional ambassador program
launch. @Melicacy, a fitness creator, shared her positive experience as a brand ambassador on stage, emphasizing the authenticity and impact of the partnership.
Navigating the #Deinfluencing Trend
#Deinfluencing is an emerging social media trend where personalities discourage consumers from purchasing hyped products, often offering alternative suggestions. This trend gained popularity for its emphasis on authentic content and countering overconsumption. According to GWI's latest social media report, authenticity is KEY, with 53% of consumers asserting that influencers should endorse products relevant to their lifestyle. As the #Deinfluencing trend gains momentum, brands must carefully select and collaborate with influencers who not only align with their brand values but also create genuine and authentic content.
In conclusion, influencer marketing in the era of authenticity has transformed the way brands connect with their audience. The focus on building genuine relationships with mid-tier creators, micro-influencers, and brand ambassadors has proven to be a powerful approach in driving higher engagement and trust. Leveraging the storytelling abilities of influencers, brands can create lasting bonds with their audience, leading to increased brand loyalty and sales.
Moreover, in light of emerging social media trends like #deinfluencing and the increasing emphasis on transparency and disclosure, brands must remain cautious and collaborate with authentic influencers and creators who align with their brand values and have genuine connections with their audience.
Luckily, we've got you covered! Narrators provides an efficient, all-in-one platform offering a wide range of features, including creator discovery and recruitment, streamlined workflows for marketing teams, enhanced brand security, and customised performance metrics. We already helped thousands of brands unlock the power of authentic creator relationships. Now, it's your turn. Book some time for a live demo here when you're ready to take your marketing efforts to the next level.