Ready to convert your followers into customers? In this guide, we're sharing everything you need to know about TikTok Shop.
There is no doubt that Southeast Asia is the region where online shopping is becoming one of the preferred options for purchases. With e-commerce giants such as Lazada, Shopee and Tokopedia, getting increasingly popular among shoppers in the region, it does not come as a surprise that TikTok decided to roll-out of their new e-commerce feature in Singapore, Malaysia and expand to other markets in South East Asia (Thailand, Indonesia, Philippines, Vietnam).
With TikTok Shop, retailers in the e-commerce industry can now grow their businesses with a range of features and tools including LIVE streaming, online ads, creator affiliate schemes, and many more. In this post, we will discuss the benefits of TikTok Shop and help you understand why it's a fantastic marketing opportunity. Let's get started!
Tiktok Shop is a new shopping solution that enables brands and creators to showcase and sell products directly through in-feed videos, LIVE streams, and a separate product showcase tab, making it easier for social media users to discover and purchase online. Just like the Instagram Shopping feature, the online marketplace allow users to browse through and buy products without having to leave the app.
With this move, TikTok has joined the social commerce parade alongside Instagram, Facebook and Pinterest to provide a streamlined in-app product selling experience for eCommerce businesses.
What are the benefits of TikTok Shop?
A wide range of potential customers
With 240 million active users on the platform in South East Asia, there is no doubt that TikTok offers a huge range of potential customers for e-commerce businesses.
Engaging and captivating, live-streaming offers a huge opportunity for businesses to reach a wider audience and interact with consumers in real-time. It's a great avenue to sell your products and establish stronger customer relationships. The TikTok Shop live-streaming feature also comes with detailed analytics that help you understand what works and what doesn't (figures include views, impressions, revenue and more).
Collaborating with Content Creators
Tap into the power of creator marketing to boost sales with TikTok affiliate plans! The platform has made it easy for brands to identify creatorsbuild strong relationships with them. All you need to do is to invite your favourite creators as affiliate and pay them a commission on sales generated.
On top of organic content, user-generated content and creator collaborations TikTok also provides a variety tools to help businesses and brands widen their reach, get more visits to their shops and increase orders and sales!
Product discount: allows you to set discounts on your products in order to stay competitive against other sellers and adjust your product prices according to market trends.

Flash deal: with this tool, you are able to launch limited-time promotions that will create a sense of urgency encouraging buyers to make immediate purchases. 

Free shipping: A free shipping label will help your products stand out and appear more attractive. It's also a good way to encourage buyers increase their basket size.
These new advertising formats have one common objective: Product Sales. TikTok Shopping Ads is a simpler, smarter, and more advanced solution that helps brands meet shoppers wherever they are in the purchase journey, sparking demand and boosting sales.
Video shopping ads: Create shoppeable videos displaying on the TikTok For You Page.

Live shopping ads: Let people discover and watch you LIVE videos, and browse and buy your products.
Aside from offering a plethora of beneficial features to support selling, TikTok Shop is FREE an really EASY to setup! Let's have a look!
How to set up a TikTok Shop?
Get your TikTok shop up and running is quite easy and can be done in minutes.
First, you need to sign up at TikTok Seller Center, fill all the necessary information (business type, shop name, phone number etc.) and upload the required documents and bind your bank account. 
Once you have completed these steps, you are ready to start adding products to your shop. Remember, the Seller Center is the only place where you will be able to manage your shop, products, inventory, orders, creator partnerships, analyze store performance, generate reports and more!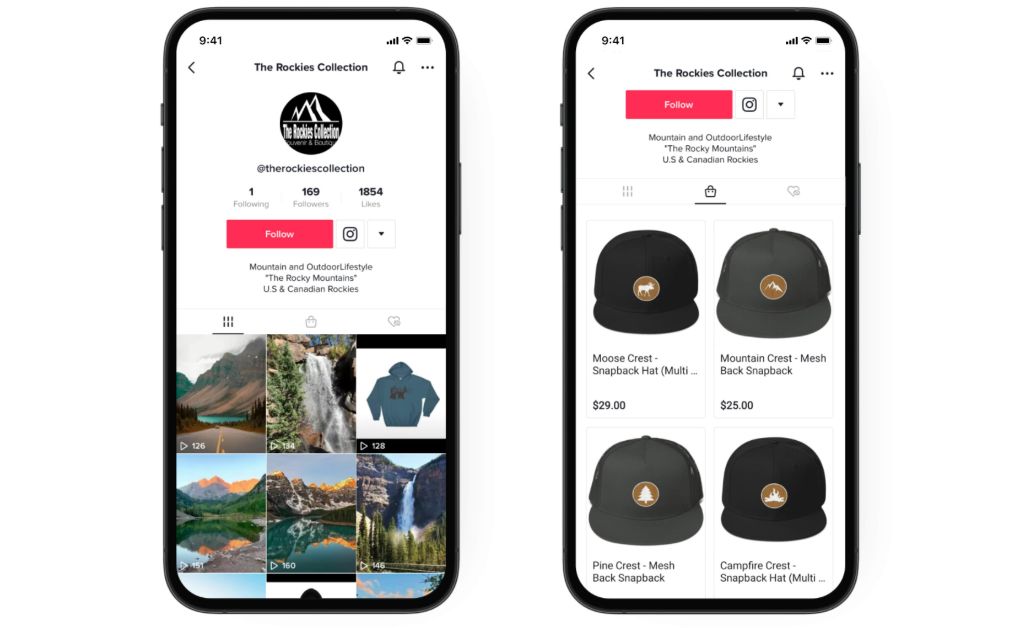 How can Influencer Marketers Benefit from TikTok Shop?
It's a no brainer that influencer marketing is the leading strategy for brands to fully embrace the value of TikTok Shop. With 1B monthly users spending in average 52 min on TikTok per day, the platform gives brands a fantastic opportunity to capitalize on a massive audience, especially through Content Creators.
Ranging from celebrities to passionate and talented ordinary people, TikTok offers a large panel of Content Creators that provides real value to both brands and audiences through their creative expertise and energy.
Videos featuring Creators perform above benchmarks in three key areas: engagement, click-through rates and view-through rates. Nothing amplifies a brand's message like a TikTok Creator. The other magic of Content Creators is that they are able to tap into different verticals and still remain authentic to themselves and their community.
However, as any other social media platforms, Running a successful influencer campaign requires thorough planning, research, creativity and resources. But remember, you're not alone in the TikTok influencer madness! At Narrators we have built a community of social media experts who would love sharing their TikTok best practices with you.
Social Shopping is taking the world of E-commerce by storm and shows no sign of slowing down. From discovery to engagement to actual purchase, it offers online retailers a huge avenue to meet potential customers and turn browsers into buyers. Therefore, it is crucial that you prepare a solid foundation for your TikTok Shop and work on a well-thought influencer marketing strategy to scale your business through the roof! At Narrators, we help brands unlock the power of TikTok influencers through our robust platform and talented creator community across Asia. Get in touch and talk to one of our social media experts!